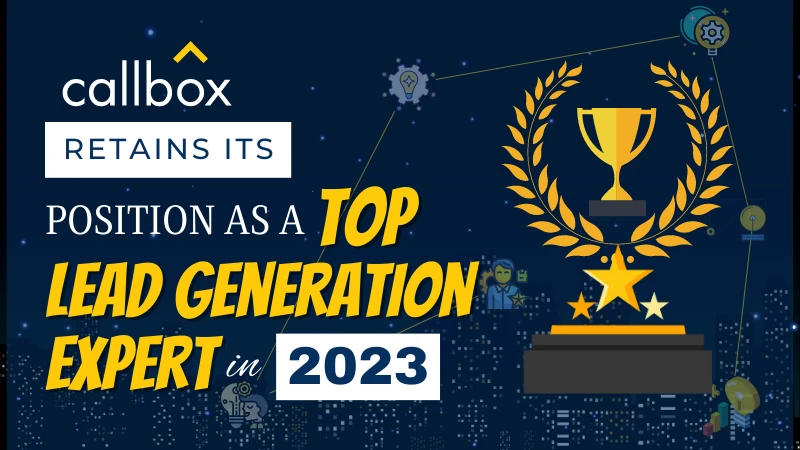 Callbox has once again made it to the list of the best lead generation companies in 2023!
Attention all B2B enthusiasts, sales and marketing aficionados! Are you ready to say goodbye to lackluster lead generation and hello to success? Callbox is here to deliver!
With its unwavering commitment to providing top-notch B2B lead generation services to businesses across different industries, Callbox has earned its reputation as one of the most reliable lead generation companies in the market. The recognition was given by a reputable business review site, which evaluated the company based on its lead generation capabilities, customer service, and overall reputation.
Callbox's success is attributed to its comprehensive appointment setting and account-based marketing (ABM) strategy, which helps B2B companies generate leads more efficiently and cost-effectively. The company's cutting-edge technologies and data-driven insights have enabled it to stay ahead in this highly competitive industry.
As a business in the B2B industry, lead generation is constantly on our minds as it is the lifeline of every business. Lead generation, as per definition, is the process of identifying and cultivating potential customers for a business's products or services. In other words, it is the process of capturing interest in a product or service to develop sales opportunities.
In recognition of its outstanding performance, Callbox has been consistently ranked among the top lead generation companies by various industry experts and review sites.
Clutch
In the most recent Clutch top-ranking B2B lead generation agencies, Clutch named Callbox as one of the highly experienced, creative, and most recommended B2B lead generation agencies. According to the platform's latest 2023 ranking, our team is among the top 5 lead generation companies & services globally with a total of 4.6-star ratings and 97 reviews.
To give you a rundown, Clutch is a credible business-to-business rating and review platform that helps businesses make informed decisions when selecting service providers for their projects. They are using a unique rating methodology that combines client reviews, industry recognition, and market presence to assign a score to each company. This methodology allows businesses to easily compare service providers and make informed decisions about who to hire. In addition to company profiles, Clutch.co also provides research and analysis on industry trends and conducts surveys to gather insights from business leaders and decision-makers.
To learn what our customers say about us, you may check the Callbox profile on Clutch to read more reviews.
Outsource Accelerator
According to Outsource Accelerator, Callbox ranked 2nd as the best lead generation company in the US.
Callbox has supported B2B firms in achieving their sales and growth targets. To do this, they offer a comprehensive suite of lead generation, appointment setup, and data-related services.
When it comes to reaching out to target consumers, Callbox employs a multi-touch, multi-channel strategy.
Outsource Accelerator
Outsource Accelerator is the world's largest outsourcing marketplace and consulting firm. With their worldwide directory, they are helping over 3,000 business process outsourcing (BPO) companies around the world with thorough information, price guidelines, and reviews. They help solopreneurs, small and mid-size enterprise (SME) owners, or corporate executives to identify the best outsourcing provider for their business.
Built In
Built In recognizes Callbox as one of the top lead generation companies you need to know in 2023.
Callbox pairs clients with industry-specific consultants to better customize outreach. Tech features prominently, but the firm also services telecommunications, healthcare, advertising, HR, finance, and manufacturing and distribution. The company emphasizes its multi-channel approach, using email, outbound calls, social media, SEO, landing pages, and webinars to rope in prospects. Clients are also outfitted with Callbox's Hubspot-linked contact management platform, which lets them keep real-time eyes on the lead pipeline.
Built In
The platform is a website that publishes news, articles, and job postings related to technology, startups, and entrepreneurship. It covers a range of topics, including software engineering, product design, data science, marketing, and more.
Built In also offers resources for job seekers, such as career advice, salary guides, and company profiles. The website has a presence in several major tech hubs across the United States, including San Francisco, New York, Chicago, Austin, Los Angeles, and Seattle.
Software Testing Help
Software Testing Help ranked Callbox as one of the top lead generation companies and hailed it as the best in database solutions and virtual event marketing.
Callbox is recommended for its features like database solutions and event management solutions. These features ensure maximum high-quality leads in your hands and let you focus on just converting them. They handle all other things from acquisition to the appointments of high-quality leads.
Software Testing Help
Software Testing Help is a website dedicated to providing resources and information related to software testing and quality assurance. The website offers a wide range of content related to software testing, including articles, tutorials, and tools. Some of the topics covered on the website include test automation, performance testing, security testing, mobile testing, and agile testing. The website also provides information about certifications, job openings, and training courses related to software testing.
Moreover, Software Testing Help also has an active community of readers and users who participate in forums and discussions related to software testing. The website also offers a newsletter and social media presence where readers can stay up-to-date on the latest news and resources related to software testing.
Quicksprout
After countless hours of analysis, Quicksprout gave Callbox a review and commended it as one of the best lead generation companies and services. Quicksprout recommends the top 7 lead generation companies it can confidently recommend and give Callbox the 2nd spot.
I like this company because they have niche-specific lead generation services. Not only does Callbox provide leads to B2B organizations, but more specifically, they provide B2B leads in the following categories: IT and Software, Consultancy, Healthcare, Finance, and Advertising.
When you first start working with Callbox, they'll compile a list of companies that match your target business profile. Callbox takes that to the next level by identifying the key stakeholders and prospects within those organizations.
Callbox will engage with those prospects across all channels using various forms of media communication.
Setting appointments and confirming those meetings with a qualified lead is the final step of their process.
By the time you speak with a lead, they've already gone through several stages with Callbox. These leads are primed and ready to be sold.
In addition to lead generation, Callbox provides database solutions, event marketing services, and account-based marketing. They take the heavy lifting off of your plate for B2B lead generation.
Quicksprout
Selling Signals
Allyssa Haygood-Taylor, a writer for sellingsignals.com, highlighted Callbox as a leading provider of B2B lead generation services. The review praised Callbox's focus on building long-term relationships with clients and helping them achieve sustainable growth through effective lead generation strategies. The reviewer also noted Callbox's ability to adapt to changing market conditions and stay ahead of the curve when it comes to emerging marketing technologies.
Callbox: Best for Core & Advanced Offerings
Provides robust offerings for generating sales leads and additional marketing services.
Callbox is an end-to-end lead generation company that provides full-service offerings. Their dedicated sales team generates ideal leads for you through several channels including email, phone, mobile, website, and social media, then they build lead profiles and strategize how and when to get in front of them. Callbox also offers advanced offerings like a dedicated SDR, making it a great option for anyone looking for holistic support.
Callbox is a useful one-stop shop for lead generating services, but they have limited CRM data integration features. If you need solid offerings plus specialized assistance in understanding and cleaning your reported lead data, check out EBQ.
Selling Signals
Selling Signals is an online publication dedicated to providing sales professionals with the most comprehensive and actionable advice available on the internet. Salespeople write their content for salespeople, and their audience of top producers relies on their clear, comprehensive, and highly relevant articles to drive revenue growth, exceed sales targets, and advance careers.
Selling Signals cover a wide range of topics that are essential to sales success, including lead generation, lead nurturing, deal-closing, sales management, sales software, and more. Their goal is to empower sales professionals with the knowledge and skills they need to achieve their objectives and excel in their roles.
SuperbCompanies
SuperbCompanies named Callbox as one of the top B2B lead generation companies, praising the company's ability to provide customized solutions tailored to each client's unique needs. The review highlighted Callbox's expertise in multi-touch multi-channel marketing, customer profiling, targeted outreach, and lead nurturing, as well as the company's focus on delivering measurable results and ROI. Overall, the review emphasized Callbox's commitment to delivering high-quality leads and helping clients achieve their business goals.
Callbox is a top-rated B2B lead generation company that offers a range of services to help businesses drive growth and revenue.
Their team of experienced professionals uses a data-driven approach to identify high-quality leads and engage them across multiple channels.
With a proven track record of success and a commitment to delivering exceptional service, Callbox is a trusted partner for businesses looking to improve their sales and marketing performance.
SuperbCompanies
SuperbCompanies is a self-regulating platform for market research and analysis that offers services in the IT industry. It provides a one-stop shop for business owners and companies to discover dependable partners across various domains. The platform offers an extensive range of top-rated marketing firms, software development agencies, software testing companies, PR firms, SEO specialists, and Microsoft Dynamics CRM consultants, among others. SuperbCompanies evaluates numerous organizations globally based on their performance, expertise, experience, portfolio, market presence, and accomplishments.
Not only has Callbox been named one of the top B2B lead generation companies by review sites and industry experts but the company has also been recognized by peers in the B2B industry for its ability to deliver high-quality leads and measurable results.
Unbound B2B
From unbound B2B, for example. UnboundB2B named Callbox one of the top 13 best B2B lead generation companies to look for this year 2023, citing the company's ability to provide comprehensive lead generation services to IT and software, finance, healthcare, consultancy, and advertising that cover everything from customer profiling to appointment setting. The review noted Callbox's track record of success with clients across a range of industries, as well as the company's offered services like event marketing, database management, and account-based marketing and the use of cutting-edge marketing technologies and multi-channel lead nurturing campaigns.
Callbox is more into providing leads for niche-specific companies. They provide leads to B2B companies. Side by side, they also focus on specific niches like IT and software, finance, healthcare, consultancy, and advertising.
In the initial period, the company will provide details of multiple companies. Then it will identify the main stakeholders in the company and provide you with the compiled data.
This tactic increases the probability of you convincing the lead to convert. Callbox uses various forms of communication to contact the leads.
Unbound B2B
Unbound B2B is a B2B marketing services company that provides a range of lead generation and marketing solutions for businesses across various industries. The company offers services such as email marketing, content marketing, and account-based marketing, among others. UnboundB2B focuses on helping clients generate high-quality leads that have a higher chance of conversion and revenue growth. The company also provides market research and data analysis services to help clients stay informed about their target audiences and make informed marketing decisions. UnboundB2B is headquartered in California, USA.
VSynergize
According to a review on vsynergize.com, Callbox is one of the top 10 B2B lead generation companies in the United States. The review praised Callbox's ability to deliver high-quality leads through a combination of targeted outreach and personalized engagement strategies. The reviewer also noted Callbox's expertise in using data and analytics to optimize lead generation campaigns and increase conversion rates.
Callbox helps B2B companies to reach growth and get revenues by providing a full range of services such as leads generation, appointment setting, and data-related solutions. The company connects with decision makers through live, one-on-one conversations enhanced through lead nurture, Pipeline, email, social media, search, and direct marketing channels throughout different points in the conversion cycle.
VSynergize
Callbox prides itself on delivering top-notch lead generation services to businesses of all sizes. Here's what Callbox customers have to say:
Satisfied customers mean a successful lead generation campaign. Callbox executed successful lead generation campaigns for clients across different industries, including technology, manufacturing, and healthcare. Here's an example of the results they've achieved:
Callbox's 6-month Lead Generation and Appointment Setting campaign for a managed service company proved successful, as we designed and executed targeted actions that unlocked opportunities for the client to engage with new sets of prospects, resulting in the achievement of our key objectives, including delivering best-fit accounts and highly-qualified prospects.
You can also download and read the full story here.
We are delighted to once again be recognized as one of the best lead generation companies in the industry. This recognition is a result of the hard work and dedication of our team to provide innovative and effective lead generation solutions to our clients. It motivates us to continue to strive for excellence in everything we do.
Rebecca Matias, Callbox's VP of Global Operations
Callbox's lead generation services include multi-channel marketing, targeted outreach, and appointment setting. The company uses a combination of technology and human expertise to create customized campaigns that drive results for its clients.
Our team's focus on delivering quality results and personalized service is what sets us apart. We work closely with our clients to understand their unique needs and create tailored solutions that help them achieve their business objectives.
Rebecca Matias, Callbox's VP of Global Operations
Callbox's latest recognition as one of the best lead generation companies in 2023 is a reflection of the company's unwavering commitment to delivering exceptional service and results to its clients. As the company continues to innovate and evolve, it is poised to remain a leading player in the lead generation industry.
Visit Callbox - The Savvy Marketer for more resources...